Have you been struggling with the question – "Should I replace or upgrade or add on (or continue as is)?" – when you think about your current IT – today? 
 
Several reasons that trigger this question? Your Current State, Goals, Market, Competitors, InsurTech…. The list goes on…. From a decision context, it's all about which option/approach gives those "Value based Outcomes" – one and/or in combination. The focus of this week's article is just that – "Key Considerations" for decisions around "Replace/Upgrade/Add-on" in the context of Enterprise Core Platforms – what's right, when & why.
 
Diving in Straight…. Please read through till the end. An insight into Org. Transformation Readiness is waiting there for you, as a Case Study!
Replace When – maintaining legacy makes IT difficult for the business (Focus is not on deriving value but on maintenance)
Current IT for Current Biz Management & Growth looks limited due to:

Limited Existing Functional Capabilities (customizations, manual interventions, redundancies) and difficulty in adding New Ones
Dated Technology & fragmented set up – Difficult Integrations, Limited Support from Vendors
Limited or Nil value from expensive Upgrades
Overall [Moment of limited choice] Can't be used even as a system of record or Usage of the system cannot be extended 

Current IT for Future Biz – Deep mismatch between Biz Strategy/roadmap and Current IT that's difficult to bridge. Vendor does not have futuristic roadmap
New Tech Platform, in addition to addressing legacy challenges, has the potential to open new doors

Faster, virtual, real-time value
Focus on empowerment & value work, with limited redundancies. Lets you do something that you have not done before.
Focus on amalgamation – Extensions, Integrations are native, alleviating constraints
(Bear in mind – Replacement alone doesn't guarantee elimination of all current challenges. Some Companies overlay old ways of doing biz on new tech platforms, blaming the results. This is a topic for another day!)  
 
When you decide to replace, your first focus has to be on Preparation – People, Processes and Data – before you take the big leap. For that, if you must do a temporary upgrade or continue with the existing with addons, so be it. You know you are cautious and conscious. 
Upgrade when –
There is a Value Addition – The new version alleviates at least 40 to 50% of your current business problems (that occur due to technology). Could be redundant processes elimination, more intelligent transaction processing etc. 
When the new version puts you in the captain seat – providing you better controls and self-sufficiency. Your customizations are now configurable elements. 
Aids in Right Roadmap Definition – Technologically advanced stack, addresses maximum of your digital goals, at least for a period of 3 years 
[Moment of limited choice] The vendor forces you to upgrade, as they no longer support the current version, or they do not provide the capabilities requested in the current version.
Addon when –
You are happy with Current IT, but scope for improvement – Current IT suffices current operations & future goals, but with certain gaps. Addons addressing these will result in higher value gains 
They help you address something that you did not know you could do, through Tech, before – adding a hitherto unexplored channels/options
You don't want to replace or upgrade as both seem to be huge, costly, and intense initiatives. You still think there is life in the legacy, and don't want to write off all the effort & set up that has been there. Add a digital layer that seamlessly integrates with IT behind the scenes or build APIs around it (if you can) for your digital goals or build modular components on top of the existing eco system. 
Continue when –
IT is primarily used as a system of record only and addons would suffice for now. 
IT in its current state addresses your business and org goals for the next 3 or 4 years at the minimum. For example, vendor provided (optional) upgrade doesn't make a difference from a business or technological context, better continue with what you have today.  
In summary, if we have to help you decide through a model (we like to call a "RAUC" model), whether to replace, add on, upgrade or continue – we just ask you to look at the biz & tech impact/value that YOU as Company will realize (now & in future). Your decisioning will be easier!!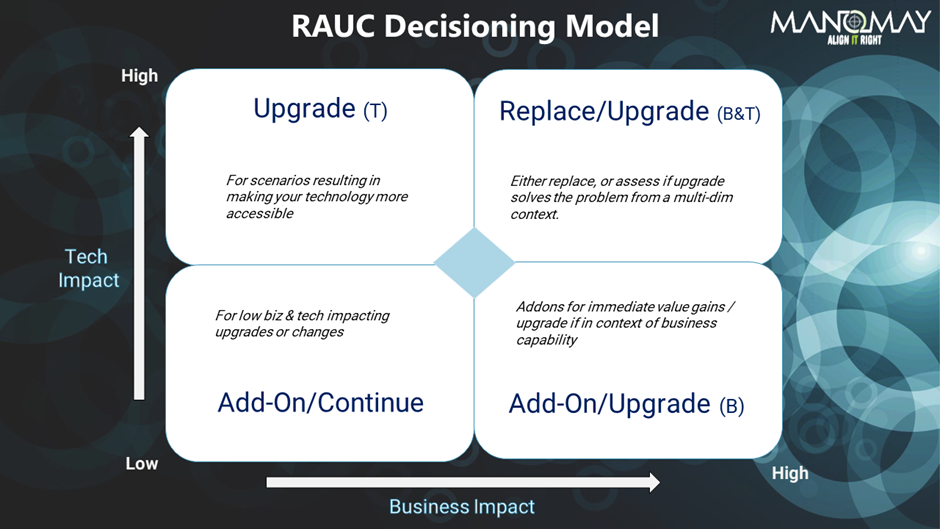 Fig 1: RAUC Model
Now, let's look at a real-world case, where RAUC was put into practice. 
 
One of our customers were mandated by their Core Platform Vendors to do an upgrade – current version not going to be supported beyond 12 months.
 
Customer, took this as an opportunity to take a step back and see if the decision had to be – upgrade or replace? (They were unhappy with the current system for a long time now). We started off with an intense current state review, understanding their future expectations vis-a-vis the new version. The conclusion was the upgrade is primarily a tech upgrade, with limited additional biz benefits (falls under Low Biz and High-Tech Impact Quadrant in Fig 1). For solving the biz problems, they need a replacement, for which they were not ready.  
We evaluated multiple options and concluded the best way forward is to build add-ons on the top of current core platform – those that not only provide immediate value, but also help (not impair) in their biz-tech maturity in the longer term – around customer centricity & operational efficiency. (24/7 Availability for Customers, Faster Response/Processing Times, Proactive Status Updates on policies/payments/defaults/renewals, Multichannel/Multi mode Communication Platform set up, Redundant Work Elimination etc.)
 
With the current Core Platform + Add ons in place, Company is empowered for serving the customers better, with the employees undertaking value work and most importantly getting ready for the Org. Transformation for future. The Senior Mgmt. felt that now they have the mindset shift for using IT much more effectively & efficiently (in the process, they pre-empted the threats felt by the employees for job displacements etc and gear up for Number 1 in the market…)
Finally, as long as we are conscious of our choices and consequences, with readiness for counter-choices, we think, we are great to go. An evolving consciousness needs in-course corrections – isn't it 😊??
 
Au revoir till we meet next!


Biz Tech Insights Team Manomay
Disclaimer: The views and findings expressed in this material are for informational and educational purposes only. It is not intended as a guideline, recommendation or a substitute to any form of Professional (Consulting or Technology) advice. Under no circumstance shall we bear a legal responsibility for the use or reliance of any information mentioned in this article.Unless otherwise specified, the views, case studies and findings expressed herein are our own. The content displayed here is the Intellectual Property of Manomay Consultancy Services (India) Pvt Ltd. You may not reuse, republish or reprint any of the aforementioned content without our written consent.