Twitter, Facebook, Instagram… social media is everywhere and in everyone's pockets!  
Social Media is no longer just about connecting people, rather due to its easy access, customizable nature, and cost-effectiveness; its use is growing leaps and bounds amongst business entities, be it for understanding customer behavior, advertising, or e-commerce. In fact, the impact of social media today is so massive that a Forbes study revealed that 78% of customers say that companies' social media posts influence their purchases.  
Consumers around the world are expressing their preferences and concerns relating to products and services, causing a multiplying effect on the overall opinion about them through word of mouth, one of the most trusted marketing strategies. 
With a whopping 3.04 billion active users spending an average of 2.15 hours daily and 90% of customers seeking to reach out to brands, social media can act as a platform for awareness, engagement, promotion, and advocacy of your offerings.  
Imagine your customer checks in on Facebook at a new location, say, Hawaii. Wouldn't it be great to let them know that their security is on your mind by providing an option for them to secure their possessions? And if they intend to, they answer a couple of questions through a Facebook messenger BOT, and yay!! the policy is sold. Sounds good, right?  
This is just a teeny tiny part of what social media can do. If leveraged right, this can be the easiest & cost-effective medium that allows 'You' to travel with your customer in their day – to – day lives. A few real–time use cases on how social media can be leveraged, 
A fast request response channel – For assisting customers in getting policy-related information, immediate query resolution, and timely notifications related to their purchases. 
Simplifying quotes, policy options, terms, and claims processes and freeing customers from the fear of 'hidden clauses' and uncertainties in a matter of minutes! 
Gathering customer data to uncover more about a client's lifestyle, including eating, exercise, health habits, behaviors, and needs/wants for more informed decisioning –  

for product designing & modelling 
on pricing, cover packages, conditions 
fraud detection 
cross selling/up selling etc. 

Self-help Tips and Advisory- To establish a border-less business model and thrash the conventional role of acting solely as a service provider but also as protectors, associates, and caregivers by sharing the information about hazardous weather conditions including time trackers, safety measures, self – help tips, finance advises, etc.  
Continuously aligning with your customers for better brand resonance, loyalty, and value – initiating public campaigns for higher engagement, awareness, and relationship building i.e., #DontUseDontPay by Edelweiss General Insurance etc. 
Some real great benefits, eh!? So how can you achieve it? As with anything social media adoption is a journey, you start small and build upon – but by reviewing results at every step and being wary of the competition – you do not want to overdo but stand out and at the same time stay relevant. 
A sneak peek into Manomay's social adoption journey framework, helps you know where you are and how you can journey through…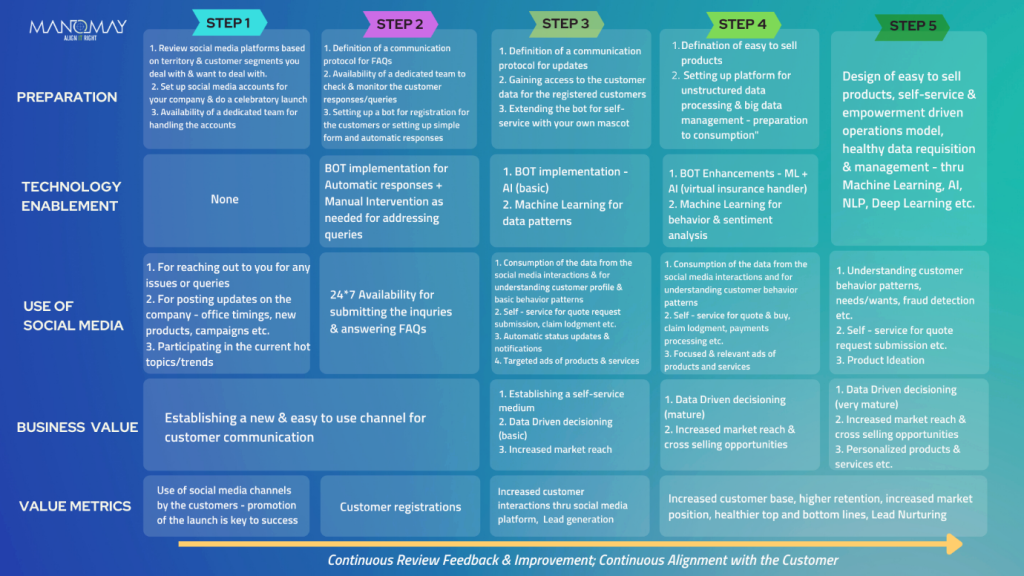 Social media if utilised properly can be a big game-changer for companies. As its usage continues to grow exponentially, not just amongst the Gen Z/Y/X but also the baby boomers, the consumer attitude towards social media is rapidly shifting in favour of businesses making it an absolute must for making your presence felt!  
So don't let your light dim in the social sphere and embrace social media for the millions of people waiting to be reached! 
We also have a few tips to make you stand out!  
Adopting a multi-channel strategy can help you see results at a more rapid pace 
Integration of social media into company-wide CRM can go a long way in improving employee and customer satisfaction 
Facebook has the largest audience size of insurance companies  
Mascots can help create high brand recall and improve engagement 
Content is king – Ensure quality content each time! 
Know what's #trending and respond accordingly  
Run a contest for increased visibility and participation- It's a win-win situation 
Determine the ideal day & time to post for your audience 
One last but very critical point, as you go about your social media journey, ensure there is a right balance between what you can, and you cannot do/use – respecting the privacy of your customer. You do not want to be an intruder.  
Reach out to us for further details at inquisite@manomay.biz and biztechinsights@manomay.biz  
PS:  Here's a fun and creative post from one of the leading Insurtech companies in the Indian market –
Biz Tech Insights Team Manomay 
Disclaimer: The views and findings expressed in this material are for informational and educational purposes only. It is not intended as a guideline, recommendation or a substitute to any form of Professional (Consulting or Technology) advice. Under no circumstance shall we bear a legal responsibility for the use or reliance of any information mentioned in this article.Unless otherwise specified, the views, case studies and findings expressed herein are our own. The content displayed here is the Intellectual Property of Manomay Consultancy Services (India) Pvt Ltd. You may not reuse, republish or reprint any of the aforementioned content without our written consent.