Is it enough if a Project Manager deals with scope, cost, timelines & resources?  
If you look at it – the key responsibility any PM is given is optimal resource utilization within estimated timelines so the project courses within the budgeted costs. PM's are now also equipped with fancy new methodologies that they hope can help achieve the targets. Then why do failures continue to happen? Why are there time & cost overruns, dissatisfied customers and projects left midway? 
In hindsight, the causes could be any or all of the below, 
Lack of clarity on the overall big picture 
No clear definition of roles & responsibilities 
Unable to determine the dependencies upfront – internal & external 
Lack of checks and balances  
Lack of visibility across stakeholders 
Scope creeps and lack of defined change management process 
The list goes on …………… 
Doesn't this make you think – "Is there something else to project management which is much beyond – scope, timelines and cost (STC)"??? 
As Greg Cimmarrusti, said, "Being a Project Manager is like being an artist, you have the different coloured process streams combining into a work of art." 
A sneak peek into this artist's toolkit, a bag of techniques, methods, secrets, and best practices for that best ART OUTCOME.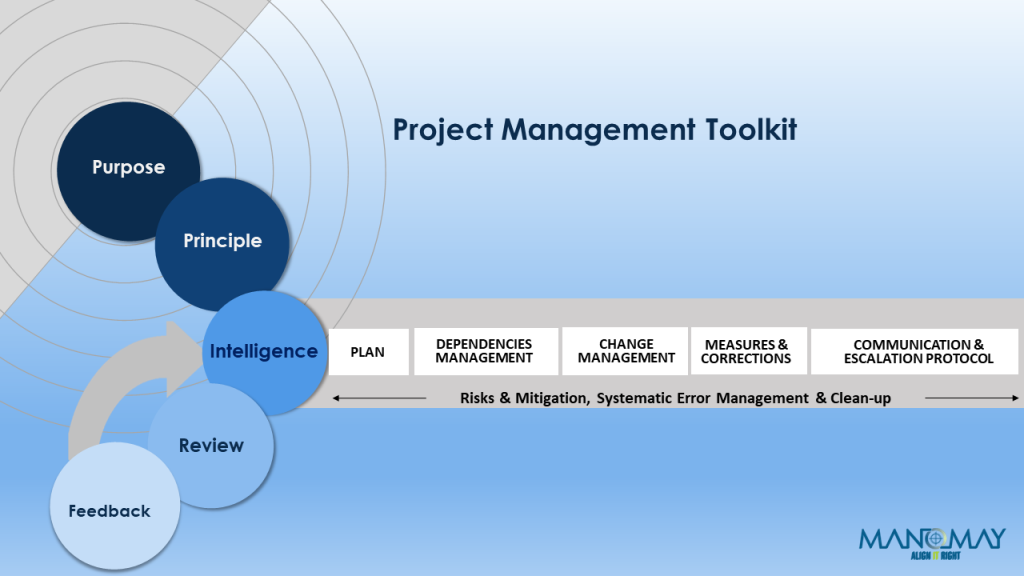 Understand Purpose – Before you begin, make sure you understand the 'PURPOSE' – ask 'WHY' and 'WHAT' is the problem being solved irrespective of project scale. This is the foundation that you have to lay your entire intelligence on.  
"No matter how good the team or how efficient the methodology, if we're not solving the right problem, the project fails." – Woody Williams 
Define Principles – Define the key goals, metrics, milestones & deliverables that align with the purpose 
Design your "Intelligence"  
Planning (Now & Future) – Define what must be achieved, when, by who and how. Plan for now, prepare for future – embed the known unknowns into your plan and leave way to accommodate the unknown unknowns. It is important that you accept that there will be a need for 'CHANGE' – Plan is always a living document.  
Assemble your team (& stakeholders) – Having the right team on board, one that understands the big picture, aligns with the purpose and is clear on his/her role is one of the key drivers for success. Determine who leads, who supports, who reviews and signs off at every stage in the project. And ensure visibility across. 
Dependency Management – Could be one of the potential areas of failure, especially when you are working with multiple teams, if not done right. Follow the rules of a work breakdown structure to minute level of details, identify "What" or "Who" might be a blocker or dependency for completion of the task.  
Change Management – Ensure every tiny modification to the scope is properly vetted vis-a-vis the business value and impact on the timelines and cost. It is necessary that key stakeholders understand the impact and take a decision – go or no go. 
Communication & Escalation Protocol – Have a structured FW in place for overall communication based on the team – trigger, timeline, context and audience. Protocol to be designed to ensure proactive communication 
Visibility & Accountability protocol – It is key that all the players involved have complete visibility of the overall work, progress, goals/targets. And, have a single point of accountability defined for each of the teams. 
Impediments/Risks & Management – Be cognizant/watchful of the potential risks – it could be as simple as knowing that one of the team members addressing a key dependency may not be available at the required time, so you can plan for an alternative
Systematic Error Management – Plan for correction of the system that let the mistake happen. Not the mistake. This ensures continuous improvement in your overall process leaving no option but a successful delivery.
Review & Restructure – Like a painter, occasionally, step back and review the painting. Checks and balances at regular intervals to review the progress vis-a-vis the overall goals – across your entire PM intelligence to continuously improve, defining a culture of empiricism 
Feedback Handling & Actioning – With the review outcome as the input, identify "what didn't work", "what worked" and "what needs to be changed" across. All learnings / experiences to be added back to the "intelligence".  
Right Support for Tools & Technologies – Do not spend time on things that a tool can help you with. There are a lot of out there, that can empower your intelligence, to make the entire project management easy and fast. 
Remember, any toolkit is only as powerful as the Artist– for the bamboo can become a flute of divine music, only in the right hands 
 
Too vast a subject to cover in an article – to know more, write to us at inquisitie@manomay.biz. Always there for you! 
Biz Tech Insights Team
Disclaimer: The views and findings expressed in this material are for informational and educational purposes only. It is not intended as a guideline, recommendation or a substitute to any form of Professional (Consulting or Technology) advice. Under no circumstance shall we bear a legal responsibility for the use or reliance of any information mentioned in this article.Unless otherwise specified, the views, case studies and findings expressed herein are our own. The content displayed here is the Intellectual Property of Manomay Consultancy Services (India) Pvt Ltd. You may not reuse, republish or reprint any of the aforementioned content without our written consent.