For over a year and a half now, we have been sharing a lot of insights, thought triggers, guides, frameworks, etc., all from our years of experience but more focused on specific topics. Today, we bring a new series – a series of real-time case studies straight and a bit altered (due to confidentiality reasons 😊), from our experience books. Manomay unplugged!!! 
Case 1 
One fine morning, we start our day and see an email waiting for us, from one of our long-standing customers – checking if we can automate their First Notification of Loss process. JDIC (John Doe Insurance Company, for this case) is one of the largest in the market, a multi-vertical, multi-line, and multi-channel company.  
We started doing our due diligence – getting into the details, identifying/understanding the problem, designing the solution (Business and IT) followed by the implementation. Sharing the key excerpts from the case. 
THE PROBLEM 
Our approach to any engagement is to first establish – the what, why, where, when, who, and how of the problem.  
Prior to the implementation of the solution, the then-current state was (an abridged & altered version) – 
FNOL was primarily received through multiple channels – Emails, Web, Direct, Roadside Assistance (RSA), etc. Of these, the highest volume of submissions was from Web and RSA. Our first point of focus. 
Now, the process – 
a. For submissions coming in through the Web – A mostly manual process First Party/Third Party submits claim through web form -> A new email is sent to the centralized mailbox -> Claims Handler monitoring the email assigns to a Jr Claim Handler for inputting the info into Back-office system 
Total ETA for Claim to get into the system – min of 0.5 to 1 day 

b. For submissions coming in through RSA – Again a mostly manual process, with multiple handoffs 
Customers had to call the CSR team, and raise a request -> this request was manually shared through messages/emails-> agent/s on road picks it up & confirms acceptance -> if it is an accident, fills up a form with the customer -> comes back in and manually inputs the form into the back-office system 
Total ETA for Claim to get into the system – min of 1 to 2 days 
The problem – as seen by JDIC –  
Duplication in the process across both channels 
Delay in claim process initiation overall 
Nonvalue work by the agents – they should be on road focusing on customers and not in the office inputting data into the system 
Threat of a few customers going unanswered/unaddressed 
The problem (in addition to the above) – as seen by Manomay – it was multi-faceted, with common problems across both channels.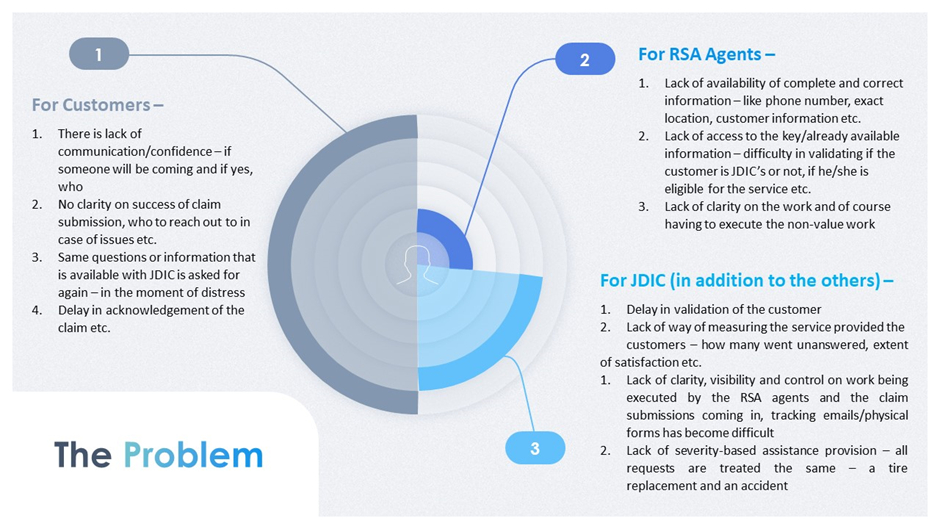 One of the key customer servicing opportunities, 'the moment of truth, was not being optimally managed. Our focus was to make it so. So, this becomes one of the key differentiating services for JDIC – and most importantly to have the customer speak to it. 
THE SOLUTION 
A multi-faceted problem needed a multi-faceted solution – with priorities defined on what is the immediate win that JDIC can get and then improve upon it.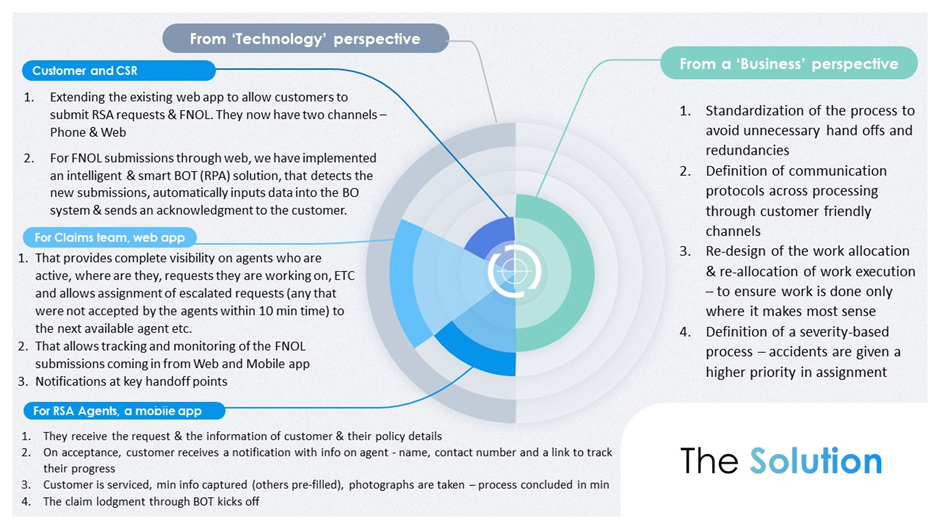 Our job didn't end with just delivering the solution to JDIC but continued beyond – to ensure the right and effective use and most importantly measuring the results. A few key metrics (tangible and intangible) –  
Customers were happy with the ease of the process and the prompt communication being provided 
Time to get the claim into the system came down from 1 day to 10 – 15 min since the submission 
RSA Agents were able to serve a greater number of customers in their shift 
Unanswered customer requests have come down to 1 or 2 due to valid reasons 
As aimed for, this became one of the talked about services by JDIC by their customers. Indirectly attracting the Third-party customers involved in the incidents.  
Sounds interesting right? And relatable? Well, we have something for you, then 😊  
For more inquiries/details, reach out to us at inquisite@manomay.biz and biztechinsights@manomay.biz  
Biz Tech Insights Team Manomay
Disclaimer: The views and findings expressed in this material are for informational and educational purposes only. It is not intended as a guideline, recommendation, or substitute for any form of Professional (Consulting or Technology) advice. Under no circumstance shall we bear legal responsibility for the use or reliance of any information mentioned in this article. Unless otherwise specified, the views, case studies, and findings expressed herein are our own. The content displayed here is the Intellectual Property of Manomay Consultancy Services (India) Pvt Ltd. You may not reuse, republish or reprint any of the aforementioned content without our written consent.