"In the course of human history, we have often been fearful of new technologies that seem poised to change the status quo. In time, these fears usually go away, and these technologies become woven into the fabric of our lives and improve our standard of living" – AI 2041: Ten Visions for Our Future
———————————————————————————————————————————————————————————
So, what are 'these' – the MLs, the C Visions, the NLPs, the LCs/NCs, the Robotics, the IoTs, the BCs, the AR/VRs, the AVs, The QCs – All there in the CLOUD & beyond – the unfathomables? Are these for us, in real?
We have, time & again, been asked these questions: Are these technologies really disrupting the way we have been doing insurance business? Is the surge sporadic or is it going to stay here, rewriting the rules of the game? Are they helping us shift our traditional mind-set to 'Customer-Centric"?
What are these disrupting technologies and what can they help us do differently? Scores of examples – just a few of them here, to set the stage right…
Intelligent machine-driven decisions (AI) replacing humans: 24/7 availability, anytime, anywhere
Instant Quote, Policy, Claims Management through Self-Learning AI BOTs
Customer specific offerings, Personalized pricing through deep-data analytics and service/recommendations through customers behavior assessment
Big data for fraud detection, risk assessment etc.
IoT for personalized alerts and behavioural patterns
Ease of Insurance – just a few clicks on the Mobile
Robotics Process Automation for repeat processes etc.
All that sounds great. Where do we start? What do we do with what we already have? What about us? Are we going to be displaced of our jobs/roles?
And here, begins the Story!
Insurance Companies have traditionally been and continue to focus primarily on "Inside-Out", with occasional "Outside-In". Price & Value – those Objective & Subjective Realities – are determined by Insurers, with little control/discretion left to the Customers. This is exactly where the new gen technologies have the capability to help shift the Industry Focus to "Demand-Driven". These technologies have the potential to narrow down the pricing to the most granular level and make the perceptions of the customers, for service, come true.
In terms of acceptance, we see, there are ways to embrace the disruptive technologies – either "INCREMENTALLY" or "TOTALLY",
Incremental – if you are an existing Insurance Company, carrying the legacy of people, processes, technology, and data – take one step at a time (as your core focus must be on driving acceptance) – e.g.: initiatives around Customer Experience & Satisfaction, Efficiencies, Ease of doing Business etc.
Total – Starting Completely New or Starting Separate (offshoot with an intent to shift current to the new) – e.g.: Peer to Peer Insurance, Direct to Consumer, Embedded Insurance, On-Demand Insurance, Usage-based Insurance, Parametric Insurance etc.
On embracing the change through technology per our market research, more than 90% of the market is preferring Incremental Disruption.
To go the 'incremental' way, embracing of the change must start with knowing where you are on the digital maturity journey first and where you want to go – from a multi-dimensional context, products, people, process, tech & data. From here to where is a plan of action. Our thoughts on the approach, explained with an example,
Identify those low hanging fruits that need your immediate attention
As a part of the claims business function, you know that you need to be proactive in giving status updates to claimants, provide an easy way of lodgement, and satisfy them with touchless settlements.
Prioritize on what you want to pick up first based on the value/acceptance and those that warrant minimum change to your current state
Of the changes to be done, what's that combination of immediate attention & immediate value? Proactive updates to the customers?
Identify the tech & implement
Start with one mode of communication, may be email? Not much of a leap in terms of tech
Review the results: Drop or Re-calibrate or Build upon
Customers are happy, they know everything and there is no need to ask, call volumes come down – employees are freed, employees now better appreciate the initiatives – they want to extend this to policy
In one sentence, we are asking you to focus on those 'Little Bets'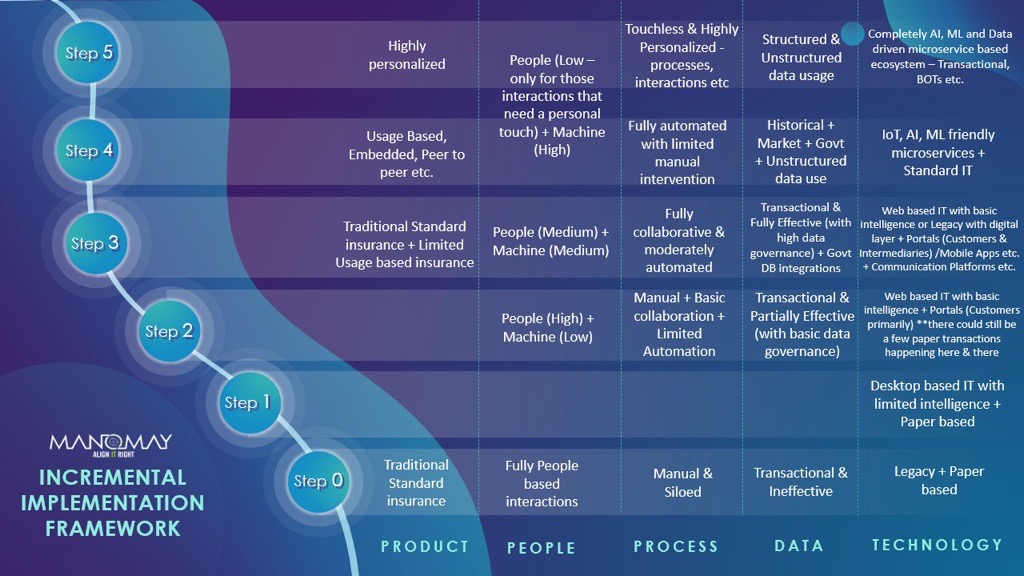 Finally, can these technologies create efficient services, so we get back our most valuable resource – time? Can they take over routine tasks and liberate us to do more stimulating or challenging jobs? So, we focus on contributing through our creativity, critical thinking, and passion?
The answer is 'YES', you just have to take that leap beyond fear (of change/risk/uncertainty), experience the little wins and grow. For, these are just TOOLS in your hand.
"Once a small win has been accomplished, forces are set in motion that favour another small win."
As mentioned, these are just excerpts, to know the details or for inquiries, ping us at inqusite@manomay.biz
Biz Tech Insights Team Manomay
Disclaimer: The views and findings expressed in this material are for informational and educational purposes only. It is not intended as a guideline, recommendation or a substitute to any form of Professional (Consulting or Technology) advice. Under no circumstance shall we bear a legal responsibility for the use or reliance of any information mentioned in this article. Unless otherwise specified, the views, case studies and findings expressed herein are our own. The content displayed here is the Intellectual Property of Manomay Consultancy Services (India) Pvt Ltd. You may not reuse, republish or reprint any of the aforementioned content without our written consent.