"Risk comes from not knowing what you are doing." 
It's that time of the year when you lay out your next goals & targets, formulate plans, budgets and get into board meetings, etc. to finalize on 'What's next?' for the upcoming year – Increasing your market reach? Increasing your customer retention? Improving top and bottom lines? Or maybe all and beyond? 
 
But do you realize that for all of this to turn into reality, there is a need for the most feared and resisted 'CHANGE'. And most importantly that there is a need to manage this 'CHANGE' RIGHT for the RIGHT RESULTS, no matter the kind of initiative, big or small, complex or simple. 
 
And please remember that this is not something that you need to deal with after the fact, but from day 1. So, is it in your plan? Do you have a method to manage CHANGE? Well, we have a few thought triggers/insights to share with you. 
 
You must be wondering if it's actually worth dedicating an entire article to. It absolutely is because if the change management is not focused on, achieving the set goals becomes exceedingly difficult and may not even translate to reality. In fact, according to a Harvard study about 70 % of Org. Change initiatives fail – due to a lack of dedicated efforts towards managing the 'CHANGE', despite successfully determining he purpose & goals, building the team, making implementation plans, and so on. 
A few of the key reasons why change initiatives fail, from our experience books – 
No consistent and structured top-down approach for managing the internal change 
Absence of an inclusive and collaborative approach 
Lack of communication and transparency across the organization on change, milestones, successes, and issues, etc. 
Lack of openness, trust, and ability to drive personal ownership amongst the members 
Lack of focus on measure & results during change 
…. 
Organization Change Management is as a continuous, tenacious and value driven journey from here to 'THERE', your (current) finishing line. Afterall, change is constant, continuous and inevitable. 
 
This journey is essentially that of translating your visions to reality to a stage of continuous improvement by dealing with each change effectively and managing all the units, individuals and stakeholders associated with it. It incorporates two key dimensions that form an integral part of the process: 
Organization Performance – Dimension that focuses on factors that contribute to the financial and operational results of the Org-Products, Services & Value. 
Organization Health – Dimension that emphasizes factors contributing towards achieving the common goal by improving Experience, Effectiveness, Empowerment & Alignment.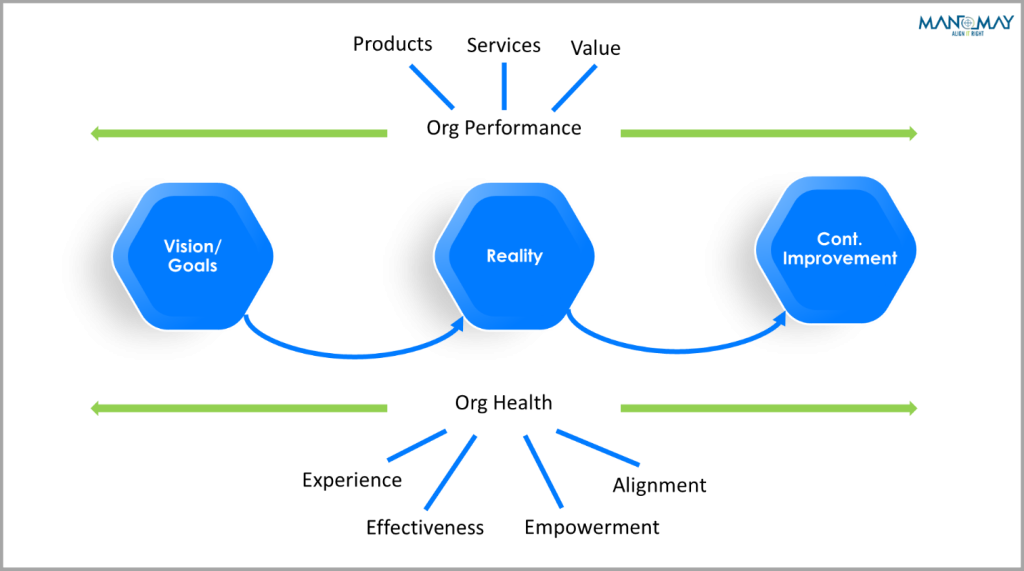 Organization Performance, being relatively less complex, is easier to deal with while Organization Health requires extra attention from a managerial perspective. It's one of the most sensitive & critical parts of change management – it involves 'THE people' who can either act as advocates or obstacles in the process and influence the course of action. 
 
To deal with this, our recommended first step towards Org Change Management, is constituting the RIGHT TEAM – consisting of internal & external entities, 
One that can work beyond the regular hierarchy 
One that aligns with the vision & significance of the overall initiative 
One that showcases commitment & power to lead the change 
One that can be holistic and multi-dimensional 
One that is driven, open-minded, motivated, and positive 
And most importantly, ONE that is INTERNAL. For, change management has to be driven internally. 
 
With your RIGHT TEAM in place, we bring you the right approach with our OCM Framework. Here's a sneak peek…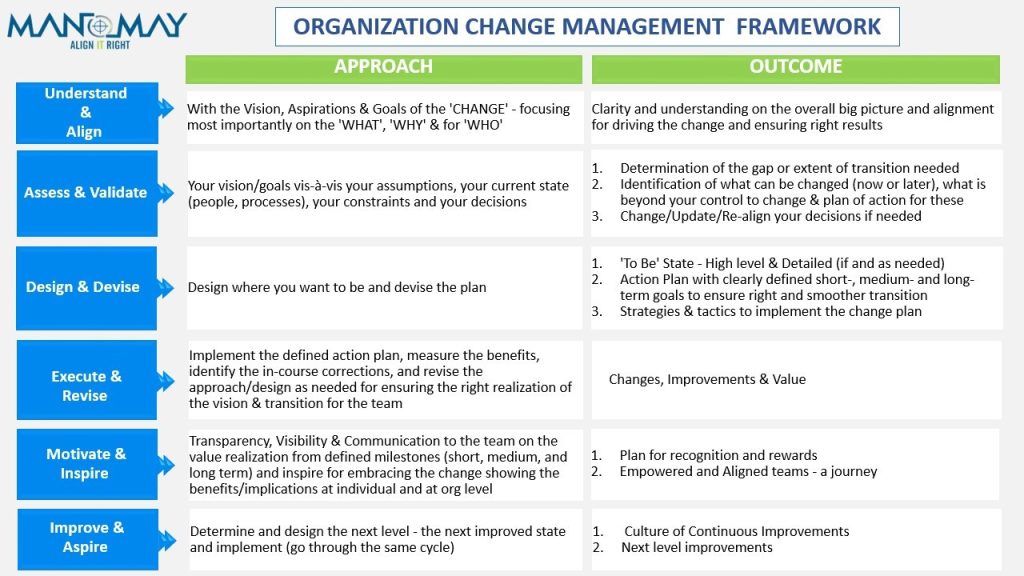 To re-emphasize, you can have excellent change management consultants that can show you the right pathway and hand hold you, however, for your people to embrace and align with your mission it must be YOU that must walk through it and work with them! 
 
Change cannot be put on people. The best way to instill change is to do it with them. Create it with them. – Lisa Bodell 
 
We have just covered the tip of the iceberg, there's so much more to this topic. For details/inquiries, reach out to us at inquisite@manomay.biz  and  biztechinsights@manomay.biz 
Biz Tech Insights Team Manomay
Disclaimer: The views and findings expressed in this material are for informational and educational purposes only. It is not intended as a guideline, recommendation or a substitute to any form of Professional (Consulting or Technology) advice. Under no circumstance shall we bear a legal responsibility for the use or reliance of any information mentioned in this article.Unless otherwise specified, the views, case studies and findings expressed herein are our own. The content displayed here is the Intellectual Property of Manomay Consultancy Services (India) Pvt Ltd. You may not reuse, republish or reprint any of the aforementioned content without our written consent.