***
"Data is the new oil" Yup, heard that a lot.
"Data and the stories it can tell can help you be a 'BETTER' you, helps you consciously & continuously better your decisions, better your customer servicing, better your operations, better your risk management, on and on goes the list. Add the market intelligence into the mix, there is no stopping you" Yes, totally agree.
"You need mature data, data marts and data cubes, just start defining the dimensions and you get the right insights" … Okay?!…I am lost.
***
Insurance is an Industry that runs on data. With customers expecting personalized services and products, with new & emerging insurance models (P2P, embedded insc., pay as you go etc.), with unstructured data coming in through IoTs and with growing need for automation optimization (thro' use of AI, ML, RPA, BOTs etc.), the role that Data can play in improving financial performance and services to the customers is growing multi-fold. 
You understand the importance of data and what it can bring to the table for the Company. And you decide to invest in strategies around Data Assets, Technologies and Tools. Trillion Dollar Question – where to start?
Welcome to our Biz-Tech Insights! As always, we start with a series of thought-provoking questions – all around current state and way forward. For you need to know, where you are, to begin your journey. (Consultants and Questions: they go hand in hand 😊. Of course, with us, there are those right answers too….)
Data Sources: Where is my data coming from? Internal and External? If external, what protocols do I have on source data authentication?
Data Heath: Is this data healthy, and correct? What's the basis for determination?
Data Use: What data do I use today in my decisions & services? What data I want to use for future? Do I have this in place? What's the impact for changes?
Data Depth: How far into the Org. need do I gather data? Who decides?
Data Flows: Have I ever looked at the flow of data across the Org? So fundamental to my business
Data Expansion: If I want to expand, beyond current realm, what is the impact org. level?
Data Standards: What are the data standards that we have internally & adhere to?
Data Security: How am I ensuring this? Do we follow protocols for compliance's sake or seriously, through a plan & execution?
Data Mindset: Overall as an Org., do we have the data mindset? If not, how do we create this? Is this not the starting point?
Data Team: Do I have one? If not, how do I put together one? What's the pre-requisite?
Data Tools: What technologies and tools do I use today? What's available out there? How do I decide what's best for us?
….
As you can see, the answers help mirror yourself to where you are in the "Data Maturity". Map your answers to the framework below (exclusively for you) and you know WHICH stage you are in and WHY and WHERE you can go.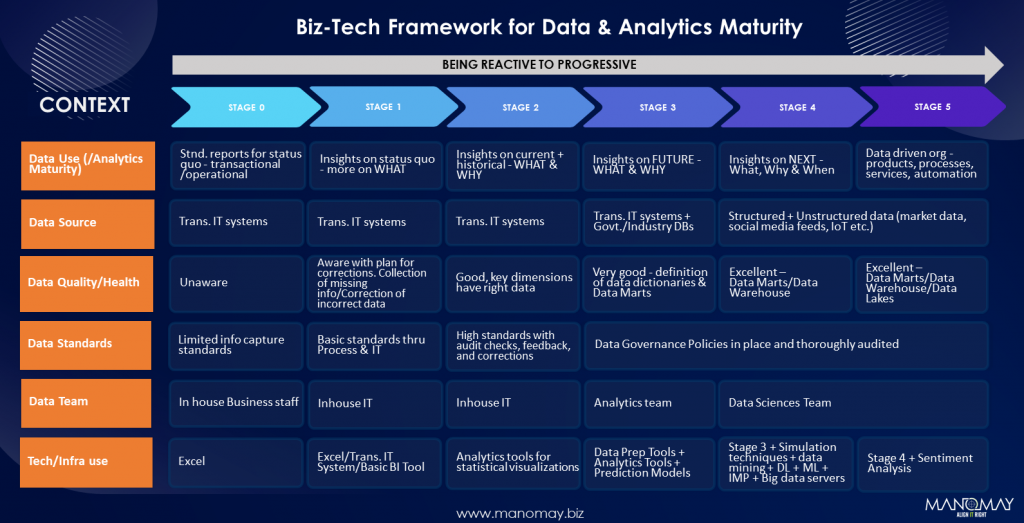 Data & Analytics Maturity Framework [Figure 1]
So now you know, where you are, and you also know where you can go… that ultimate Himalayan Peaks
If you want to climb Mount Everest, you need right preparation, right?
Here you go – A High level Preparation Framework for right "Strategy & Execution" covering the key elements in a strategic business intelligence & analytics program by Patricia L. Saporito (Reference: Applied Insurance Analytics). Each of these below is a subject unto itself.
Objectives & Scope: Purpose & Objective of your Analytics strategy; Current State & History; Objectives & Scope (Most important: What's included & what's not)
Business Needs: Summary of your Needs from biz perspective by biz function (UW, Claims, Finance, Customer Service etc) and the best tools to fulfil them; your Current vs. Future State; your Priorities & Alignment
Value: Expected benefits, incl. future state KPIs for adoption, efficiency goals, effectiveness etc. Include Post Implementation Validation; Ongoing Funding
Information Structure & Technology: Your Information Taxonomy (Customer, Agent, Policy, Claims, Financial etc); Architecture & Standards; BI Applications & Tools
Organization & Governance: Governance Structure; Program Management & Support; BI Roadmap
Culture: Most important of all, getting the Org. ready to be the "Data Driven" Org – transition planning
Team: Right Skill & Attitude for Data across value chain & intersection of people, processes, technology, and data
Too vast a subject Eh… reach out to our Data Analytics Team for further insights. We have accumulated a lot of stories along the way.
Data is the new oil. Sure! But you ought to have the RIGHT DRILL (strategy) to mine it!
Biz Tech Insights Team Manomay
Disclaimer: The views and findings expressed in this material are for informational and educational purposes only. It is not intended as a guideline, recommendation or a substitute to any form of Professional (Consulting or Technology) advice. Under no circumstance shall we bear a legal responsibility for the use or reliance of any information mentioned in this article.Unless otherwise specified, the views, case studies and findings expressed herein are our own. The content displayed here is the Intellectual Property of Manomay Consultancy Services (India) Pvt Ltd. You may not reuse, republish or reprint any of the aforementioned content without our written consent.