This week, as we celebrate our 12th Anniversary (TODAY, the 13th), we are bringing something EXCLUSIVE to our readers.

And that's about nurturing the constantly changing & evolving IT Application Landscape, so you keep getting the right value out of it continuously – not just efficiencies, but experiences that are becoming the foundation for life-time value!

So, you are a mid-size Incumbent P&C Insurer, operating in multiple geographies & servicing multiple LOBs, through Direct & Intermediary Channels! How does your Application Landscape look like, today? Something like this? Complex??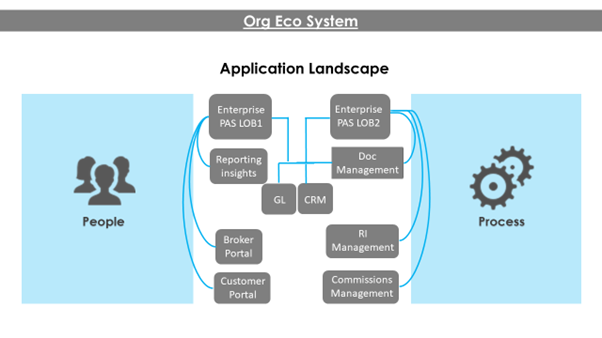 As you grow & expand, you keep introducing changes to this landscape – in the form of debundants, replacements, upgrades, sunsets etc, probably, making it more complex. So what? You think, you need all those Systems & Automation Capabilities to run & take the business to the next level. Wish it were, as simple as that.

Our focus is not about the complexity of the landscape here. It's about how you are viewing the tech ecosystem, as it keeps changing & evolving. About your awareness & response to the ripple effect – the one that can be as simple as a tide to the most complex tsunami.

When you introduce a change, to the existing ecosystem, the impact can be on People (Internal & External), Processes, Other Applications in the eco-system and Data & Flow. This impact has to be understood right – for you can only manage that you understand correct – you do not have an option.

Let us explain with an example – Starting with triggers, including potential decisions:  
Better experience & satisfaction for the customers – Might lead to introduction of a self-service mobile app or BOT
Empower internal customers, your employees – Might lead to introduction of a new Flow Management System or Employee Portal for Accountability/Ease of Use/Approvals   
Increased Efficiency of Operations – Might be through introduction of Robotic Process Automation of Repetitive & Labor Intense tasks
Mandate for addressing a new regulatory requirement – Might lead to changes to the current operations, data capture and quality improvement for better reporting etc.
Legacy Platforms that are becoming difficult to manage & scale – Might lead to Replacement of Core Platform/s
All these look simple and straight forward decisions/introductions, when looked at, independently. Is that the case?

For example, when you intend to introduce a Mobile App for E2E Customer Experience, look at how the ecosystem gets impacted, for:
Unified View: LOBs, Business Functions
Integration with existing Core Platforms – Quote/Policy/Claims/Billing
Users & Roles: Revisiting of changes to the roles
Data: Accessibility from Multiple Platforms & Consolidation
Technology: Possible differences across platforms
…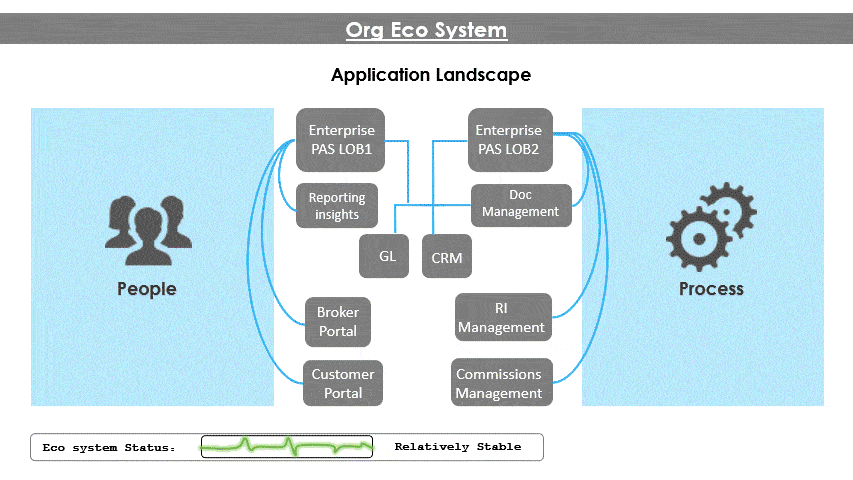 If a seemingly simple introduction of an App touches almost all parts of the ecosystem, what about complex combined changes? Such as "Replacement of Core Platforms" & "Sunsetting of Legacy Systems"? Where, everything & everyone in the Org. might have to be subject to a potential realignment?

Introducing Manomay's Proprietary Framework that can help manage your Application Landscape Maturity, for right & continuing value realization, as the ecosystem wades through the CHANGES & CHALLENGES.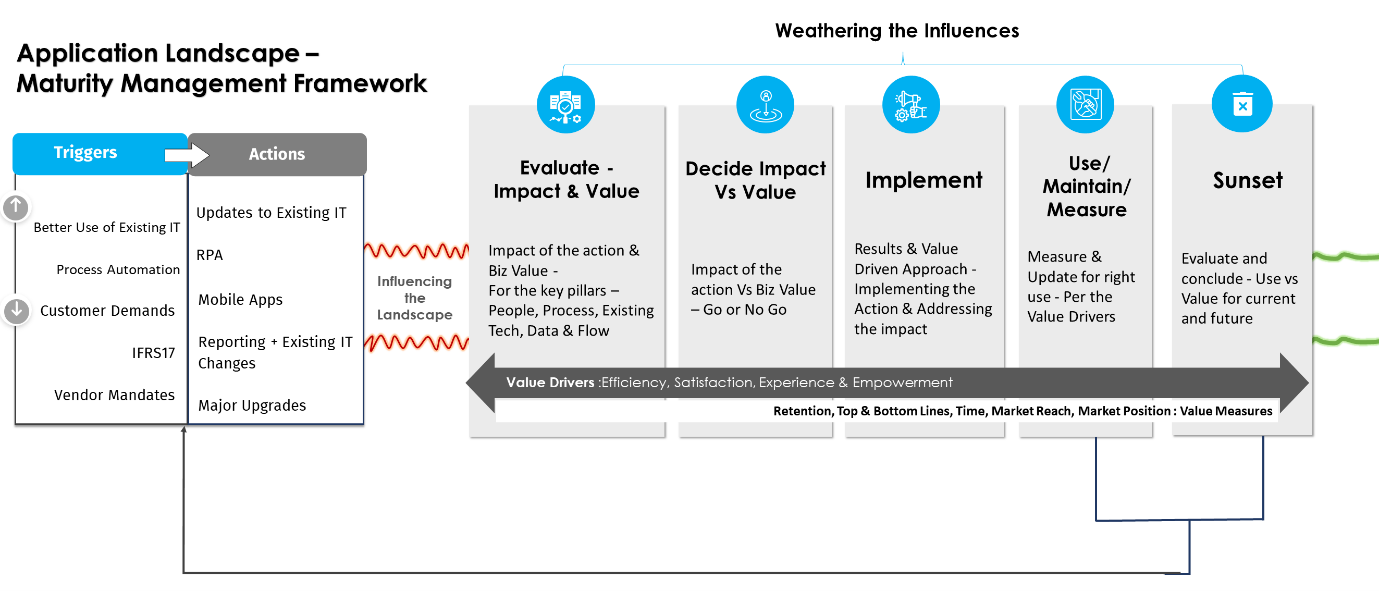 While this is the Framework, you need the right and required skill that can help you in the right management of your Application Landscape Maturity – someone that understands
Business, Technology, Data – their intersection
Business Vision and it's importance to Tech Direction
Strategy to Execution
Business & Operating Models
Different Users & their Expectations
Overall, determination, measurement of Value and recalibration from all dimensions
Finally, Right people have to be in the critical jobs and the core processes must be strong enough, with the framework-based discipline, built into the Org. Culture

Our method is showing, much more than telling – we are coming up with a fable mapping with the method shortly, for that's the easiest way to show how the method can work for you! Meanwhile, please write to us on your challenges of managing the tech eco system – We will be right there for you, with our insights & way forward. Please reach out to us @ inquisite@manomay.biz or biztechinsights@manomay.biz

Ciao, till the next time!!!
Biz Tech Insights Team Manomay
Disclaimer: The views and findings expressed in this material are for informational and educational purposes only. It is not intended as a guideline, recommendation or a substitute to any form of Professional (Consulting or Technology) advice. Under no circumstance shall we bear a legal responsibility for the use or reliance of any information mentioned in this article.Unless otherwise specified, the views, case studies and findings expressed herein are our own. The content displayed here is the Intellectual Property of Manomay Consultancy Services (India) Pvt Ltd. You may not reuse, republish or reprint any of the aforementioned content without our written consent.