*** 
Jane – Hi it's Jane, I need an update on my Claim status.  
CSR – Sure Jane, connecting you to our claims department.  
 
 🎶 Your call is important to us please stay on the line 🎶  
 
Claims Handler – Welcome to ABC Insurance, please provide your name, contact number and claim Id. Kindly hold while we check the details  
 
🎶 Your call is important to us please stay on the line 🎶  
 
(after giving an update). Is there anything I can help you with?  
Jane – Yes, I need to know the premium due on my mediclaim policy.  
Claims Handler – Please hold while we redirect you to the Healthcare department. 
 
🎶 Your call is important to us please stay on the line 🎶  
 
We have all been there and we all know how Jane must have felt 
*** 
 
We also know what could solve the problem – having that one single consolidated view of the customer and empowering the staff with this information. 
 
Many insurers today, especially the incumbent, who service multiple verticals and use multiple IT systems to transact and manage their business, experience the importance and lack of having this consolidated view of the customer. Mind you, if you do not service multiple verticals, but use different IT systems to manage your day-to-day business you might still be facing this issue. 
 
This article focuses on the three KEY questions – What, Why and How in the context of single view of customer. Just a brief insight into the need/value and how this can be achieved, exclusively for you. 
 
What? 
Simply put, Unified Customer View/ Customer 360/Single view of customer, no matter how and what we call it, boils down to just this – Having one consolidated view of everything related to your customers, their current & previous associations (quotes, policies, claims etc.), their interactions, their active transactions, their needs/wants/expectations, issues/complaints etc. 
 
Why? 
Well, you know this better than us. The need/value or the level of empowerment provided through a single view of a customer is multifold – you get to 'KNOW' your customers better, their needs/wants, their association/loyalty with you etc. Looking at a few, from Business & Customer perspectives, 
Better & improved customer service – Right focus, faster responses, hassle free etc. A quick recap, it's just a week ago, we have seen how knowing your customers can help you craft the right user experience design  
Better business decisioning – be it in the context of issuing a better quote or detecting a fraud 
Better positioning opportunities – easy identification of cross sell/up sells options and knowing the right target segment 
Better use of already available information avoiding redundancy 
Focused strategy definition for improving customer/market reach etc. 
How? 
Consolidated view = Consolidated Database, right?! 
Well, yes & no, while the final solution to have a consolidated view of the customer is through a consolidated database, the journey to get there entails much more than just this – it is about bringing all the RIGHT, SUFFICIENT & CLEAN data together. 
 
Single view of the customer will only be powerful if your DATA checks all the (above) three boxes. 
The thought process of having and maintaining the right data thereby an insightful/informative single view of the customer, should be built into the DNA of the company, across all its pillars – People, Process and Technology. 
 
A quick snapshot of this journey –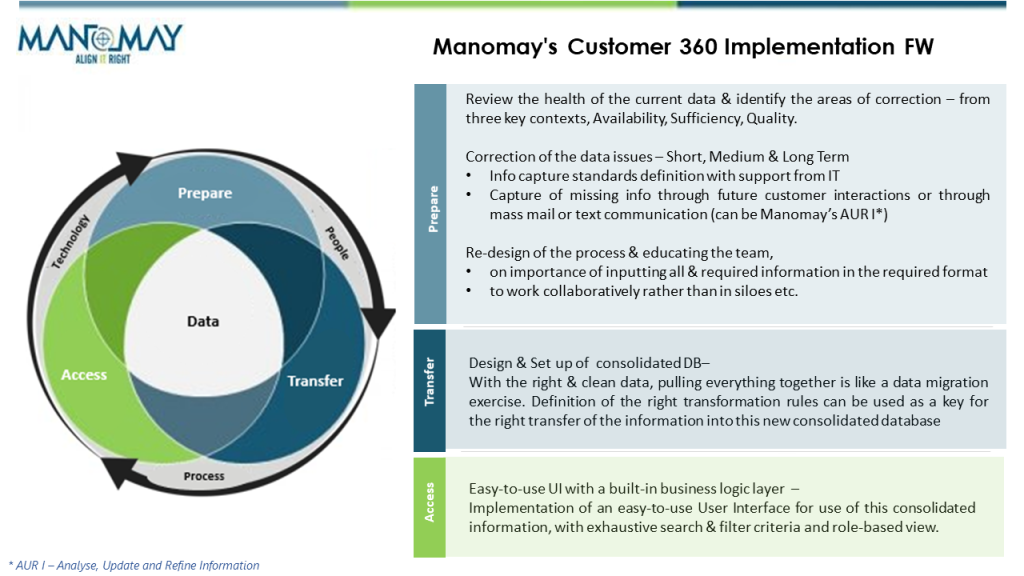 This might seem to be an intense exercise; however, you can always start small and build upon. As indicated, it is a journey, and needs to be properly coursed through. 
 
In conclusion, having a single view of customer is another powerful weapon that aids/empowers in being a better 'YOU' – your top line/bottom line, your employees and your customers. But it can only be as powerful as your data. 
 
To know more, just send a hello @Inquisite. 24/7 for you – Your Interest is our Focus. 
Biz Tech Insights Team
Disclaimer: The views and findings expressed in this material are for informational and educational purposes only. It is not intended as a guideline, recommendation or a substitute to any form of Professional (Consulting or Technology) advice. Under no circumstance shall we bear a legal responsibility for the use or reliance of any information mentioned in this article.Unless otherwise specified, the views, case studies and findings expressed herein are our own. The content displayed here is the Intellectual Property of Manomay Consultancy Services (India) Pvt Ltd. You may not reuse, republish or reprint any of the aforementioned content without our written consent.